Deadly Vengeance Book 1
After losing their father to a corrupt police officer's negligence, the Massaro sisters harbor deep distrust of law enforcement. They do their best to keep their psychic abilities a secret, but meddling outsiders with good intentions pop up at the worst of times. Keeping a low profile is now more important than ever; years of red tape have delayed their wrongful death suit against the city, and twenty-two-year-old Giselle Massaro fears losing her younger sisters to foster care.
But when a neighbor shows up with an impassioned plea to find a kidnapped girl, Giselle can't refuse to help with her incredible abilities before the kidnappers make good on their threats, even if it means putting herself and her sisters back under the scornful eyes of the local police.


Her Darkest Fear Book 2
Guilt drove Meadow Massaro away from her sisters. Their psychic abilities put them in the hideous minds of psychotic killers; hers lets her see visions from the innocent she has vowed to protect. She left to find her own path and use her abilities on her own terms, successfully hiding from authorities until the dramatic rescue of a child lands her in the FBI's sights. The agent sent to find her is top-grade eye candy, and for the first time, Meadow is hiding her abilities from a man she's attracted to—not because of the inevitable freak-out when he discovers what she can do, but because he already knows about her gift and wants to exploit it.
Special Agent Parker Glinn has been on leave for the last two years after the murder of his wife left him emotionally shattered. Transferred to Intelligence, his assignment—find a psychic vigilante roaming the streets of San Francisco—is supposed to be a gentle re-entry to field work. But when a killer from his past follows him across the country, Parker is at risk of drowning in the mire that nearly claimed his sanity—and his life—two years earlier.

Her Dangerous Desires Book 3
Mallory Massaro is like her sisters; she has unique psychic abilities that allow her to sense violence in other people. But unlike her sisters, she has never cared to help the world with its woes. Instead, she floats through life like it's one giant party, indulging in the latest bad boy to catch her interest. Nobody has expectations of her, because they know they'll never be met. But when her best friend is murdered—after taking a job dancing on a pole in Hollywood's seedy underbelly—things get personal for Mallory. She's going to use her abilities to flush out the killer, and she may or may not call in the police when she does. She might just take care of this particular scumbag herself. And to her delight, after installing herself undercover at said pole dancing establishment, Mallory gets some ass-kicking practice on low-level scumbags, and discovers she's good at it.
Unfortunately, one infuriatingly annoying private investigator has also installed himself undercover at the Pink Rose, and he's dead-set on stopping her. Squeaky clean, know-it-all Travis Boyd is the opposite of her type and Mallory shouldn't care what he thinks, so why does she? To make matters worse, she's allowing herself to become distracted by what she's loathe to admit is mutual attraction.

Her Deepest Secret Book 4
Corinne Massaro has a lot to measure up to. Her youngest sister was fast-tracked into the FBI. Another singlehandedly brought down one of LA's most dangerous serial killers. The eldest, a forensic sketch artist whose visions put her in the mind of violent killers, has assisted the LAPD on more high-profile arrests than any of them can count.
Corinne's job experience is serving coffee at Starbucks.
So when a small town in Northern California is plagued by a child murderer who slips through the authorities' fingers time after time, Corinne decides to do something to help. Unfortunately, she arrives on the same day as one mean, nasty FBI agent henceforth known as the insensitive ogre, and not only does he fiercely condemn psychics, Special Agent Nate Ingerscholl seems to have it in for her on a personal level.
What's a girl to do? Charm his socks off, of course.
Nathaniel Ingerscholl has lived his whole life under the shame of a mother who was a self-confessed con artist. Bullied in school, shunned by society, and humiliated among his peers, the worst part of all was the moral abandonment by the very person who was supposed to teach him right from wrong. Now a special agent with the FBI, he takes personal satisfaction in exposing each and every flimflam artist he encounters for the swindlers they are, and beautiful Corinne Massaro will be no different.
If he can work past her girl-next-door charisma, that is.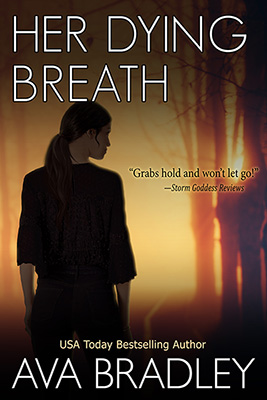 Book 5 in the Deadly Sight series
Her Dying Breath